Veggie week
On April,26 the students of Pre- Priamary celebrated a " Veggie Week" in the school. On Ist day the teachers explained about the vegetables, their colours & taste etc bilingually. Next day, the children had 'Show n Tell' activity where children identified vegetables. It was a fun filled activity. The children were very excited & enjoyed a lot. Finally, the veggie week was followed by "veggie Parade" where kids dressed up in vegetables costumes and spoke a few lines about their character.
SPECTRUM IN THE SKY
On April,20 the children of Pre-Primary learnt the concept of RAINBOW COLOURS(VIBGYOR) using the poster colours. Their hands were painted in different (vibgyor) colours .The children were excited when they could see a colour on their palms. This helped them to learn about RAINBOW colours.
Logo Design Activity
Logo Design provide a logical and cost-effective way of communicating to a particular target. When placed correctly, attractive logos can lure nearby people into a specific event and alert them of an upcoming product or service. Logos have the ability to stick to viewers' minds and can be a great tool to increase brand awareness. A logo speaks for itself. It is therefore possible to reach a broader audience.
The students of class 3-5 did an individual activity of LOGO DESIGNING on 'EMPOWERING WELL BEING'. The learners made visually appealing logos on theme. They were presented very colourfully. Each logo had a catchy design.
It was a very interesting session where the students expressed their imaginative hat and tried their level best to spread awareness on physical, mental, intellectual, cultural and social well being.
YOGA- AN ESSENTIAL ELEMENT
On April,12 the students of class 1& 2 learnt the importance of YOGA.With growing competition in every field, health has become one of the integral issues among the children these days. It is highly essential to balance a good health with daily hectic routine. But shaping up or good health does not demand hours of workout. It helps in de-stressing the body, develops concentration and sharpness, strength, advancement of education brains, weight management etc.
Yoga is one of the most recognized ways for enhancing our body and mind state. Few minutes of yoga in morning or any time during the day is helpful in enhancing and maintaining good health and personality. Yoga has several essential benefits on our body-mind-soul.
RUBBISH - BIN SORTING ACTIVITY
On April, 12 kids of Pre- Primary had RUBBISH-BIN-SORTING activity. Children have a natural desire to make sense of their world. A world that often feels out of control to them. So, it makes perfect sense that preschoolers are naturally drawn to sorting activities. They make matches and categorize as a means to bring organization to what they know.
Believe it or not, sorting skills start developing in infancy. A baby cries or laughs, which elicits a reaction from her parents, and she immediately starts learning which are the most effective in getting what a baby wants. Quickly learns how to organize those responses, and begins to make sense of her world
Children continue sorting and classifying by organizing their understanding of language, people, and objects in their environment. This helps them construct an understanding of how the different parts of their environment relate to themselves and to each other. Simply put, they are identifying similarities and differences. It's a process, too. And it's this process that's a child's first step in the math activities of matching, sorting and classifying.
HEALTH -TRIANGLE ACTIVITY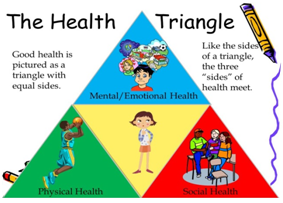 On April,12 students of classes 6-8 had Health-Triangle activity. In Health Triangle activity, children understood and present their ideas of being healthy in a minute. Health is the measure of our body's efficiency and over-all well-being. The health triangle is a measure of the different aspects of health. The health triangle consists of: Physical, Social, and Mental Health.The Students spoke confidentally and Keeping this in mind the students understood the importance of health and wellness under the guidance of their teachers. The students were also encouraged to speak a healthy lifestytle. The students participated in the activity with enthusiasm and zeal.